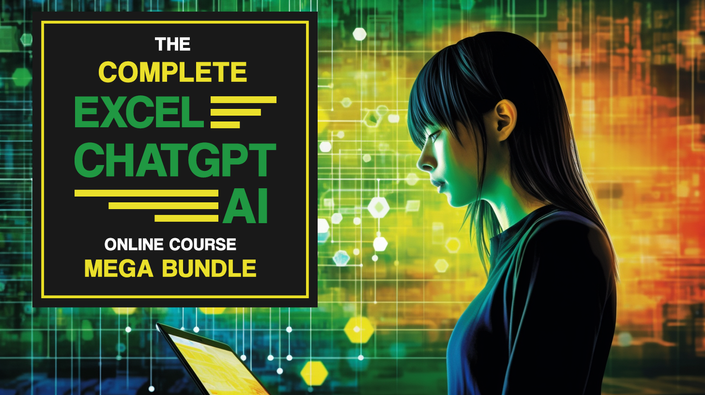 The Complete Excel, ChatGPT, AI Online Course Mega Bundle
Unleash Unprecedented Growth & Skyrocket Your Career and Business Success to New Heights! 🚀
Watch Promo
🔥🎉 The Complete Excel, ChatGPT, AI Online Course Mega Bundle 🚀🌟
Tired of endless spreadsheets and manual calculations? 😫
🙄 Are you bored of routine tasks?
Do you want a more interesting life on the job?
🚀 Let's skyrocket your career with modern data analysis skills! 🎯 Let us transform your worklife.
You're wasting time on the job with old skills and old habits 😡
Stop! It's time for a change.
You must learn modern technology to keep up with demand as an employee, boss or entrepreneur.
With just a few videos, you can learn modern tools to automate away all the boring tasks that computers today can do with ease. Put your focus on higher-level, higher-value and interesting tasks. Let AI do the rote work.
Don't get caught up

in comfort!
Protect your career from the economic recession by leveling up your skills.
Become a high-value employee by learning how to use AI. You'll speed past everyone else at your workplace. Sorry Bob but AI is coming for my job and I have money to make!
Don't get intimated

by big tech words!
Anyone can learn AI.
These tools were designed to be easy to use. And our courses make it even easier to learn.
🏢💼 Master Microsoft Excel, ChatGPT, and AI and revolutionize your professional life!
This 150+ hour video course bundle is your ticket to a future-proof career! 🎥🎓
Level 1 🚀👨‍💻

Excel for Beginners

Level 2 🧙‍♂️🎩

Advanced Excel Functions

Level 3 🤖🔮

Excel VBA & Macros

Level 4 🗣️🤝

Excel and ChatGPT Integration

Level 5 🎤💡

Pass the Excel & AI Coding

Interview
Excel & ChatGPT - The Power Duo 💪🚀
Excel is the #1 data analysis tool, with over 750 million global users.
ChatGPT, the fastest-growing AI app, achieved 100 million users in just 2 months. 🔥💼 Combine these powerhouses for cutting-edge data analysis, forecasting, and reporting.
AI & Excel Market Success 💲🌍
Microsoft (Excel's creator) boasts a market cap over $2 trillion, and OpenAI (ChatGPT's parent) is valued at around $29 billion.
The AI market is set to reach $150+ billion in 2023, while the spreadsheet software market will grow at a 9% CAGR until 2023. 🎯🏁 Mastering these skills can catapult you to new professional heights!
Learn, or Get Left Behind! 🚀💫
This bundle is beginner-friendly and comes with complete source code!
It's a step-by-step journey from newbie to Excel and AI wizard. 🎓💥 Unleash your potential today!
Bundle Breakdown 👇
Level 1 🚀👨‍💻 Excel for Beginners (5 Hours)
Master Excel, the #1 software for data analytics and business intelligence. 🧙‍♂️💫Become a data wizard!
Create practical and beginner-friendly Excel projects (5 Hours)
Level 2 🧙‍♂️🎩 Advanced Excel Functions (40 Hours)
Get hands-on with Excel's advanced features. 🎯🏆 Master powerful data analysis tools like PivotTables, Power Query, and Power BI.
Build PivotTables like a Pro in Excel 🔧 (5 Hours)

Create Awesome Excel Charts for Visualizing Data 📊 (5 Hours)

Perform Financial Analysis with Excel 💰 (5 Hours)

Analyze Data Using Advanced Techniques in Excel 🔍 (5 Hours)
Power Query and M
Beginners Excel Power Query and M Masterclass 💡 (5 Hours)

Advanced Excel Power Query and M Masterclass 💡 (5 Hours)

Power BI: Unleash the Power of Data Visualization 📊
Level 3 🤖🔮 Excel VBA & Macros (10 Hours)
Automate Excel tasks with VBA and Macros. 🚀💼 Make your work faster and more efficient.
Excel VBA Programming and Macros 🖥️ (5 Hours)

Advanced Excel VBA: Unlocking the Full Potential 🚀 (5 Hours)
Level 4 - Excel and ChatGPT Integration (100 hours) 🗣️🤝
Integrate ChatGPT with Excel to automate data analysis and reporting tasks. 💫🔥Build AI-powered Excel functions and financial models.
Automate Tasks with ChatGPT (10 Hours)
ChatGPT 4 AI Prompt Engineering for Entrepreneurs 💼

Stock Analysis with ChatGPT 📈 (1 Hour)

Build an Investment Plan with ChatGPT 💰

Predict Stock Market with ChatGPT 📊

Risk Analysis of Applicants with ChatGPT 🔒
Fraud Detection with ChatGPT 🔍
Build Advanced ChatGPT Projects (15 Hours)
Generate Social Media with ChatGPT 4 Prompts

ChatGPT SEO blog post writing

Generate Emails and Ads with ChatGPT 4 Prompt Engineering

YouTube Video Production with ChatGPT

Build Marketing Funnels and Analyze Customers with ChatGPT 4

Web Development, Branding and eCommerce with ChatGPT 4

Advanced Business and Excel in ChatGPT
Automate Excel with ChatGPT (35 Hours)
Advanced Business and Excel in ChatGPT

Advanced ChatGPT for Trainers

Advanced ChatGPT for Coaching Automation

Advanced ChatGPT for Social Media Automation

ChatGPT for C-Level Management

ChatGPT for Leadership

ChatGPT for Sales
PowerBI Automation with ChatGPT
Sales Analytics and Modeling in Excel with ChatGPT
Data Science
Data Science with Python and NumPy
Learn to Graph Data with Python and Matplotlib
Complete Beginners Data Analysis with Pandas and Python
Automate Excel Data Manipulation with Python and ChatGPT
Automate Data Distribution Visualization with ChatGPT and Python
Automate Power BI with ChatGPT
Automate Power BI DAX and M with ChatGPT
Automate Python Data Visualization in Power BI with ChatGPT
Automate Python Machine Learning with ChatGPT
ChatGPT for Programmers (25 Hours)
Learn to program in Python from scratch (5 Hours)

Build projects with OpenAI API

Learn JavaScript programming
ChatGPT 4 for Web Developers - Build an eCommerce Site with JavaScript
ChatGPT Prompts for Python Coders
Build a custom UI ChatGPT clone

Build a ChatGPT web browser extension

Build an Audio Transcriber web app with OpenAI's Whisper API
Level 5 - Pass the Excel & AI Coding Interview (40 hours) 🎤💡
Ace your dream job interview with practice questions and coding exercises. Become an Excel and AI expert today! 🚀🎯
Excel to Python Data Science Automation (2 Hours)

Automate Excel files with Python OpenPyXL (5 Hours)

Automate web tasks with Selenium Python (5 Hours)

Build 7 applications in Amazon Honeycode (5 Hours)

Python SQL Ethereum Data Science with Google BigQuery (5 Hours)
Build Machine Learning Projects
Beginner Data Science and Machine Learning Bootcamp
Machine Learning Fundamentals (1 Hour)

Data Engineering and Machine Learning Masterclass (1 Hour)

Build Machine Learning Models
Build beginner artificial intelligence projects (2 Hours)

Data science with stocks, Excel and machine learning (5 Hours)

Ace the Python Coding Interview (5 Hours)

Machine Learning Interview Questions (5 Hours)
💪🚀 Supercharge your Excel: ChatGPT and AI Integration 🧩🔝
Ever imagined the extraordinary power of combining Excel, the world's most powerful data analysis tool, with the super-intelligent AI ChatGPT? 😮🔥
That's what we're offering in this comprehensive course bundle! When you unite Excel and ChatGPT, you can automate complex tasks, perform advanced data analysis, and create stunning visualizations, all in record time! 🚀🧩
Imagine:
making data-driven decisions effortlessly

forecasting trends

with unmatched accuracy

generating insightful reports

that make your clients and colleagues look at you with newfound respect. 😮💼
Integration of ChatGPT with Excel can turn mere spreadsheets into robust, AI-powered engines capable of not just crunching numbers but also providing:
actionable insights

predictive modelling

text-based analysis

. 📈🔍
🎁🎉 More Money, More Opportunities, More Freedom 🚀💰
By mastering these skills, you will not only improve your work efficiency but also open doors to new career opportunities.
Companies are always on the lookout for professionals who can handle data efficiently and generate valuable insights from it. By knowing how to integrate ChatGPT with Excel, you become an indispensable asset for any forward-thinking organization. 🏢🚀
Professionals skilled in AI and Excel can command higher salaries and enjoy greater job security.
According to Payscale, Excel experts earn an average of $100k per year, while AI specialists' salaries often exceed $150k. With both skills under your belt, you're looking at a prosperous and secure future. 💰🔝
And this is not just about money. It's about freedom. Freedom to choose exciting projects. Freedom to work in sectors that inspire you. Freedom to innovate. When you're in-demand, you have choices. 💪🎯
This course is not

just

an investment in your skills.

It's an investment in your future. Take the leap and become a master of Excel, ChatGPT, and AI. Your journey to success starts here. 🚀💫
💼📈 Revolutionize Your Business with Excel, ChatGPT, and AI 🚀🎯
In the era of data-driven decision-making, integrating Excel with ChatGPT and AI can revolutionize your business operations. Imagine the powerful insights you can derive, the efficiency you can achieve, and the profits you can drive. 📊🎯
Excel, when combined with the power of ChatGPT and AI, can provide unparalleled capabilities! 🧠🔥
🔹
Automate Tasks
Automate mundane and repetitive tasks like data entry and report generation, freeing up time for strategic decision-making. You can even use ChatGPT to draft emails, create meeting agendas, and more. ⏲️🔄
🔹
Data Analysis and Insights
Leverage AI to extract valuable insights from large datasets in Excel. Predict trends, understand customer behavior, and make data-backed decisions that drive growth. 📊🚀
🔹
Financial Modeling
Use AI to build sophisticated financial models and perform advanced risk analysis. Make smarter investment decisions and plan your financial future with confidence. 💰🔒
🔹
Marketing Strategy
Analyze customer data to understand trends and preferences, enabling targeted marketing and personalized customer experiences. Increase customer satisfaction and boost your brand's image. 🎯🌐
🔹
Supply Chain Management
Use AI and Excel to manage inventories, predict demand, and optimize logistics. Cut costs, reduce waste, and improve efficiency. 📦🔀
🔹
Human Resources
Streamline recruitment, performance tracking, and employee engagement using AI-powered data analysis in Excel. Attract the best talent and keep them motivated and productive. 👩‍💼🔝
And much more! With the power of Excel, ChatGPT, and AI, your business can thrive like never before. Stand out from the competition, deliver exceptional value to your clients, and drive success on your own terms.💪🏆
Join us in this game-changing journey! The future of business is here, and you're invited. 🎉🚀
We'll walk you through, step-by-step how to get all the software installed and set up.
Ready to start your journey? 🚀🌍
Sign up today and in 99 days, learn to build 1 project per day. This is how you master Excel & AI. Let's start your journey towards becoming a data wizard! 💪🎓
All Pledge Tiers are STACKING
Receive more and more courses and resources with each pledge tier
Customize your learning experience by selecting the topics and modules that interest you most
Benefit from exclusive bonuses, resources, and support for higher pledge tiers
Testimonials
Collection of reviews from various Mammoth Interactive courses.
📦 Sign up today, and look forward to:
HD Video Lectures

Easy to view on mobile

Source files

Fully Fledged Projects

Resources and Downloads
Frequently Asked Questions
How do I obtain a certificate?
Each certificate in this bundle is only awarded after you complete every lecture of the course.
Many of our students post their Mammoth Interactive certifications on LinkedIn. Not only that, but you will have projects to show employers on top of the certification.
Is this an eBook or videos?
The majority of this bundle will be video tutorials (screencasts of practical projects step by step.) You will also get PROMPTS, PDFs and ALL SOURCE FILES!
Can't I just learn via YouTube?
YouTube tutorials prioritize clickbait, shock factor, and hacking the recommendation algorithm. This makes it hard to find quality content.
Our online courses are completely about education. You'll be taken from absolute beginner to advanced programmer. With no ads, clickbait or shock factor.
This bundle is much more streamlined and efficient than learning via Google or YouTube. We have curated a massive curriculum to take you from zero to starting a high-paying career.
How will I practice to ensure I'm learning?
With each section there will be a project, so if you can build the project along with us you are succeeding. There is also a challenge at the end of each section that you can take on to add more features to the project and advance the project in your own time.
Requirements
This is a massive bundle with different requirements for various courses. In each course, you will be informed of requirements.

You will need an Internet connection to watch lectures. You can download lectures for offline access via the Teachable mobile iOS app.
To follow along with the Excel sections of this Mega Bundle, you will need a free trial or purchase of the Microsoft Excel desktop application.
To build Pivot Tables in Microsoft Excel or use Power Query / Power BI, you will need Excel on a Windows computer or Windows Virtual Machine.
To follow along with the ChatGPT or OpenAI API sections of this Mega Bundle, you will need to sign up for a free ChatGPT account online at chat.openai.com.
To use the OpenAI API for calling GPT models programmatically, you will need to use free trial tokens or paid tokens.

To follow along with the Python sections of this Mega Bundle, you will need to sign up for a free Google Account to code online at Google Colab. Alternatively, you can select your preferred platform for executing Python code.
To follow along with the JavaScript sections of this bundle: you can use a free online code editor like JSitor or download a free offline code editor desktop application, such as Visual Studio Code, VSCodium or Atom.

To follow along with the Browser Automation with Selenium sections of this Mega Bundle, you will need a free download of ChromeDriver installed on your computer.
To follow along with the Google BigQuery sections in this bundle, you will need a free trial or paid subscription to Google Cloud, which requires signing up for an account with your credit card information. You will also need free or paid credit to make API calls.
Requirements differ for students in restricted countries such as China. Email our support team with any inquiries.

This course bundle is for educational purposes. You are responsible for download or purchase of software required. This bundle does NOT entitle you to ownership of software.
Your Instructor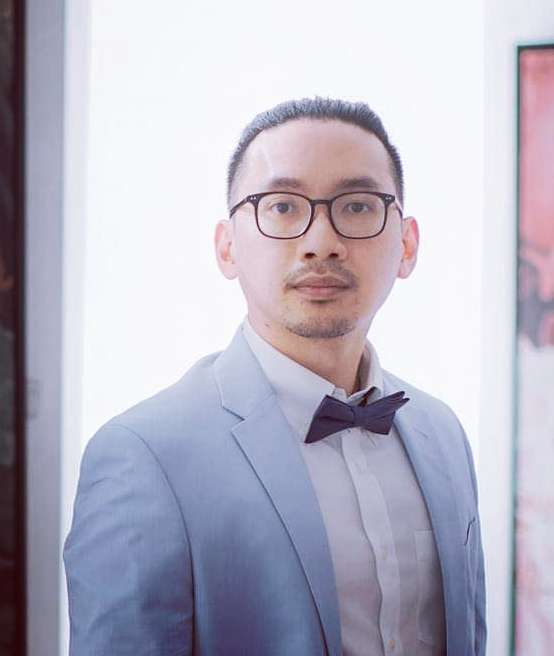 James Dabalus is a skilled Prompt Engineer with an extensive technical and creative background. James has built many courses with Mammoth Interactive on ChatGPT and Midjourney artificial intelligence tools, front-end web development, graphic design, and video editing.

Mammoth Interactive is a leading online course provider in everything from learning to code to becoming a YouTube star. Mammoth Interactive courses have been featured on Harvard's edX, Business Insider and more.
Over 12 years, Mammoth Interactive has built a global student community with 3.5 million courses sold. Mammoth Interactive has released over 300 courses and 3,000 hours of video content.
Founder and CEO John Bura has been programming since 1997 and teaching since 2002. John has created top-selling applications for iOS, Xbox and more. John also runs SaaS company Devonian Apps, building efficiency-minded software for technology workers like you.
Frequently Asked Questions
When does the course start and finish?
The course starts now and never ends! It is a completely self-paced online course - you decide when you start and when you finish.
How long do I have access to the course?
How does lifetime access sound? After enrolling, you have unlimited access to this course for as long as you like - across any and all devices you own.
What if I am unhappy with the course?
We would never want you to be unhappy! If you are unsatisfied with your purchase, contact us in the first 30 days and we will give you a full refund.